New Swimming Pool Installations
Today, there is no such thing as a standard swimming pool. Pool projects can be as elaborate or simple as the homeowner desires. Pools are not just built, but rather they are created and engineered to fit your lifestyle. Whether you desire a private backyard oasis or an entertainment headquarters to host many friends and family, we can make it a reality. We will install our vinyl liner pools with triple bend steel or composite wall systems and hard bottoms with as many or as few custom options as you want. If a fiberglass pool is what you are looking for, we will install one of the many options Viking Pools has to offer.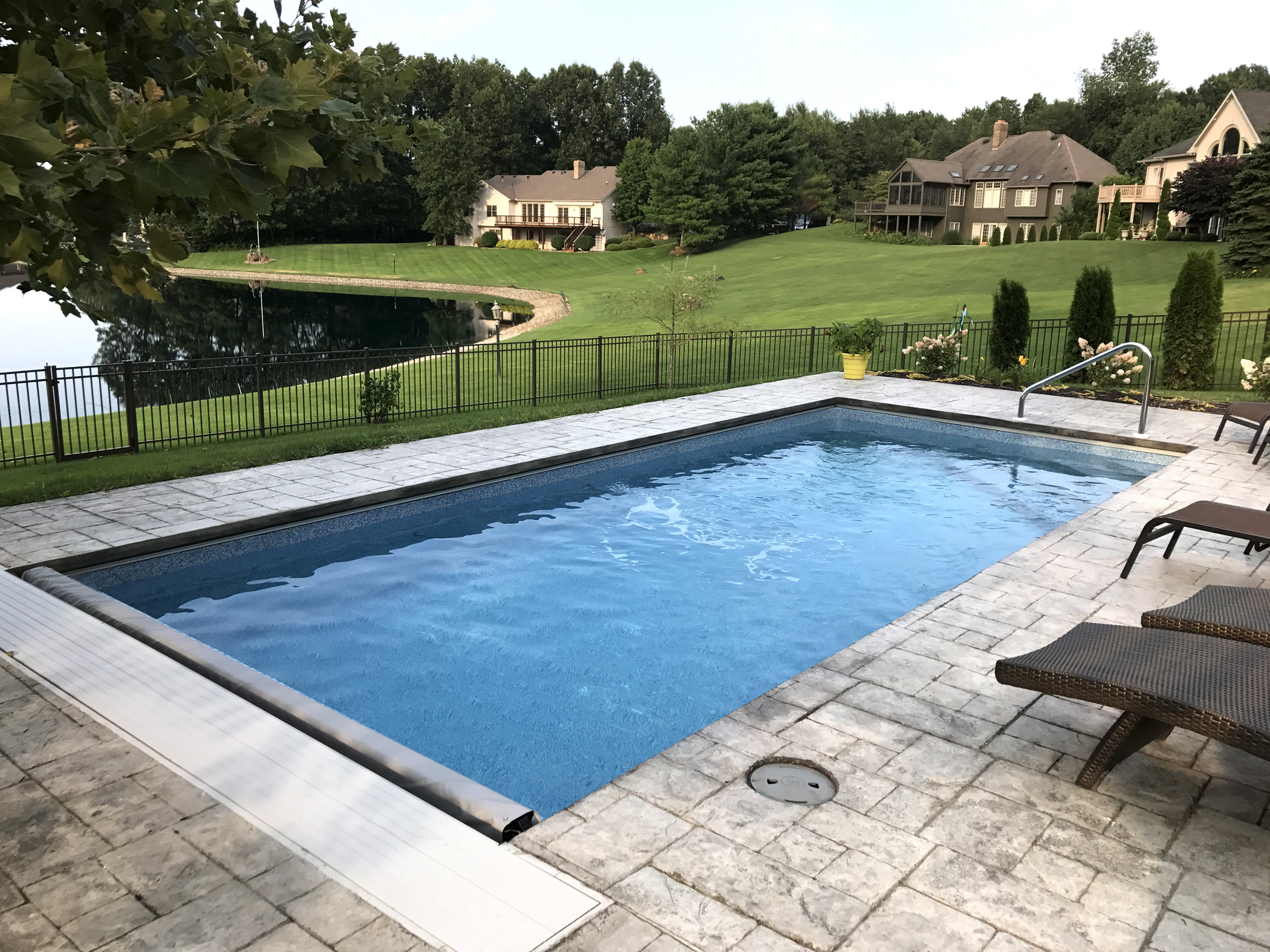 Customize
Create your backyard oasis by choosing the features that fit your lifestyle. Today's new pool options make pool projects unique and the maintenance simple. Create a safer swimming environment by including an automatic cover. Save time and expense with chemical maintenance and install a salt system or add technology to run your pool on your smartphone. Personalize your pool by incorporating Tru-Tile, programmable lighting, custom stairs, and concrete coping. Custom built-in benches, sun decks, power falls, deck jets and many pool deck options can be installed to create more than just a pool but rather your personal getaway.
Code Changes for the State of Michigan
Michigan and Indiana Residents may install an approved powered Automatic Safety Pool Cover in lieu of a barrier fence. As of February 8th, 2016, the State of Michigan has changed the Barrier requirements for Swimming Pools and Spas to allow a powered automatic pool or spa cover to be used in lieu of a fence to fulfill the safety barrier requirements.
More Info
Liner Styles
Many of the liners we offer can be seen on our website. If you are looking for a specific style and do not see it here, ask us. Liner brochures and samples are available by request.
Liner Patterns
Fiberglass Pools / Finishes
Viking's pools have a lifetime warranty and are made from the finest, most durable raw materials. It is called A.C.P.® (Advanced Composite Pool). Viking's Crystite® and Diamond Series™ fiberglass pool finishes are a complex formulation of layered gel coats, colored flakes, sparkles and colored resins. The specific formulations create an available color palette with actual three-dimensional depth which transfers more light and color back into the pool water than other colored finishes.
Fiberglass Finishes
Financing Available
Whole-project funding, with no fees, no home equity requirements. The unsecured LightStream loan has no fees or prepayment penalties. There are also no appraisals or home equity requirements. Check your rate, then apply from your smartphone, tablet or computer, and get a low rate on our virtually paperless loan, from $5,000 to $100,000.